01.20.2021
It's no surprise that unstructured data and content naturally come with many challenges. But oftentimes companies must choose between these two ditches of the common lift-and-shift or a fully manual migration method.  However, there is a new methodology, a third option – An automated compliant migration.
Automated Compliant Migration
Although fairly new technology, compliant migration uses classification technology within the context of a migration scenario.
Let's say you go to a Coinstar machine with a giant pile of change. The machine sorts the nickels and dimes and in the end, everything goes where it belongs. Neat and convenient.
What if you could take the content stored in the cloud and then put it through its own coin sorter?
Automated compliant migration points a classification engine at a content source, then classifies that content (such as an invoice, agreement, contract, etc.). Next, the engine searches that content for any potential CCPA, CPRA, GDPR, etc. sensitive type of data. The engine can then pre-tag those documents, similar to a coin sorter.
Want to learn more about executing a compliant migration? Watch this on-demand webinar addressing the challenges surrounding unstructured data within the enterprise, and explore automated compliant migration to execute high-volume content migration while supporting compliance mandates along the way.
8 Steps to an Automated Compliant Migration Infographic
So what do you do with all of this data that continues to grow over time? Well, you could do the common lift-and-shift migration method. Or you could try even manually reviewing all of your content, but that often requires a lot of resources and manpower. Or, you could follow these 8 steps:
Point a classification engine at a content source
Classify content as a statement of work, invoice, or something else
Scan for sensitive data such as CCPA (CPRA), HIPAA, GDPR, PII, etc.
Use multiple classification techniques to improve confidence
Dynamically determine migration endpoint based on classification tag and sensitivity
Execute transfer of content to a new endpoint, possibly applying content tags if the destination platform supports it
Anything that "falls out of the bottom" is sent to a special location for further review
Classification and migration should be managed by a single engine with comprehensive compliance reporting and a full chain of custody audit log for all content that is migrated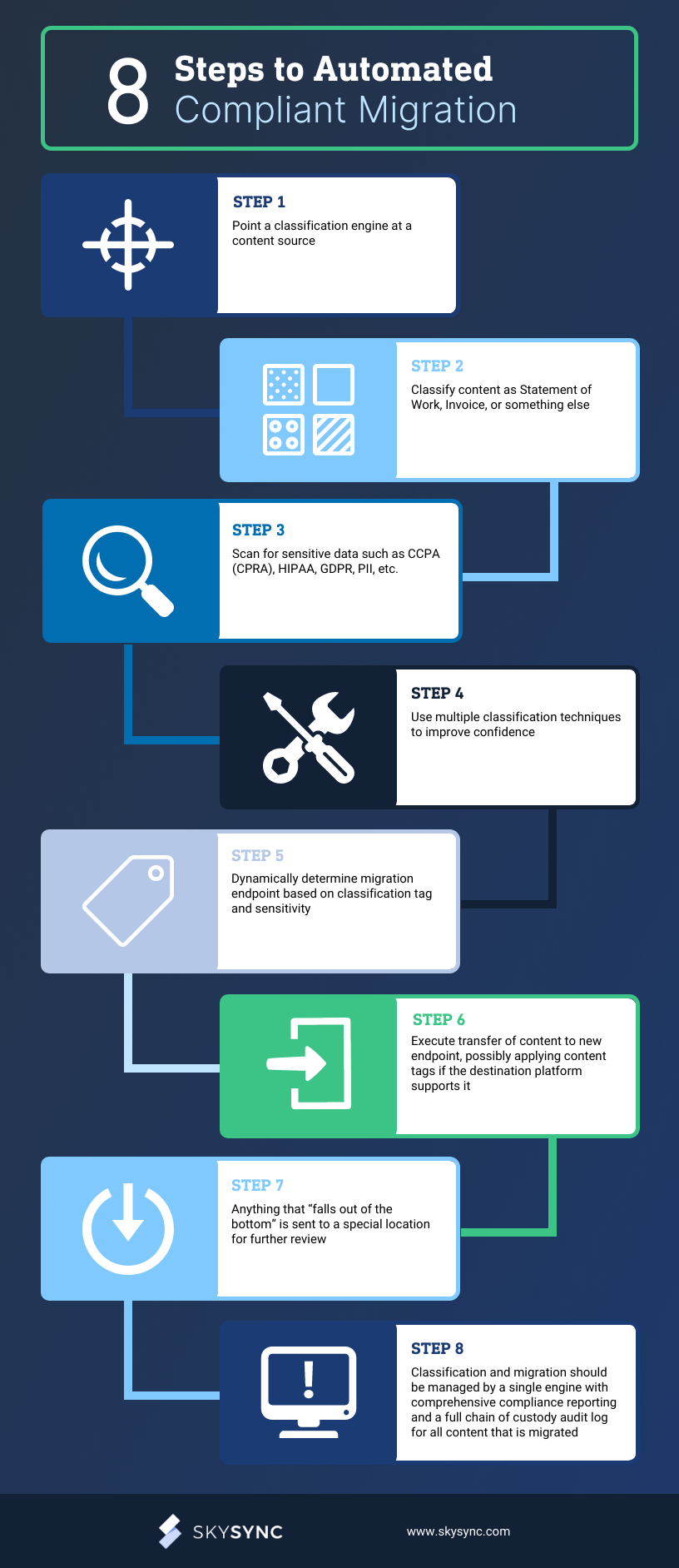 Mallorie Brazeau
Discover what SkySync can do for your business
Book a call with our team to discuss how enterprise content integration can empower your business and workforce.