05.23.2017
Hybrid Storage Environment
With cloud-based collaboration tools at their fingertips, the modern workforce is now dictating digital workplace strategy within IT departments across the globe as they pick and choose which platforms they prefer to use. These cloud services are offering an unprecedented level of efficiency, cost-savings, and freedom. Freedom to users who are increasingly out of the office, or working with external stakeholders for instance. They also offer opportunities for an unprecedented lack of IT oversight regarding where and how corporate content is being shared and stored.
Many enterprise IT departments have discovered, however, that there is a way to have their cake and eat it, too. They empower users to choose their own file platforms while keeping content secure and synchronized with their existing record system. How? Through Enterprise Content Integration (ECI).
What is Enterprise Content Integration?
Enterprise Content Integration is a method of securely integrating disparate storage platforms and maintaining administrative control over all file transfer activities across an enterprise. By integrating their enterprise content management systems, organizations can create a hybrid storage environment. This ultimately supports both legacy on-premises and Cloud-based Enterprise File Sync and Share platforms (EFSS).
Platform Freedom Through Synchronization
Organizations that have accepted that an untethered enterprise is more productive than a user base chained to an aging file system are often opting to synchronize the new system with their existing platform, rather than migrate their content entirely.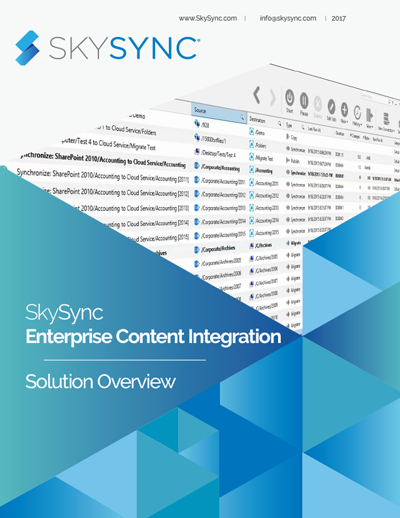 Through a bi-directional synchronization, an organization can deploy new EFSS services while preserving the integrity of its on-premises Enterprise Content Management systems (ECM) – including any existing security measures and line-of-business system integrations.
Skullcandy, the US-based headphone retailer, uses this Enterprise Content Integration strategy to synchronize its on-premises SharePoint with cloud-based Dropbox. By creating this hybrid storage environment, Skullcandy enables global collaboration and empowers users to choose which platform is most productive. All while still maintaining SharePoint as its local system of record.
"Synchronization has really enhanced our user experience because what they see in Dropbox is exactly what they see in SharePoint," said Skullcandy Help Desk & IT Manager Zach Belles. "We are not telling our employees what platform to use. We empower them to collaborate in the most productive and effective means for their particular work style."
Collaboration Among IT & Users
Collaboration is a key factor in today's workplace. Not just among employees and stakeholders, but between IT and the user base as a whole. Moreover, IT must work with users to find a content management scenario that keeps the organization secure and strategically aggressive and efficient. After all, the users themselves have the most valuable insight as to what tools make them most productive. Moreover, harmony between both groups is imperative for an optimal employee experience within any digital workplace.

Krystal Elliott
Discover what SkySync can do for your business
Book a call with our team to discuss how enterprise content integration can empower your business and workforce.