09.11.2018
With the rise of newer content integration & management systems and cloud services, more enterprises are exploring various methods to implement these systems to modernize their workforce and increase productivity.
However, some enterprises cannot completely abandon their existing infrastructure. Their reasons can vary, from security and compliance mandatesto ROI requirements. These enterprises are instead electing to integrate the newer, more appealing systems with their legacy platforms, rather than migrating their content altogether.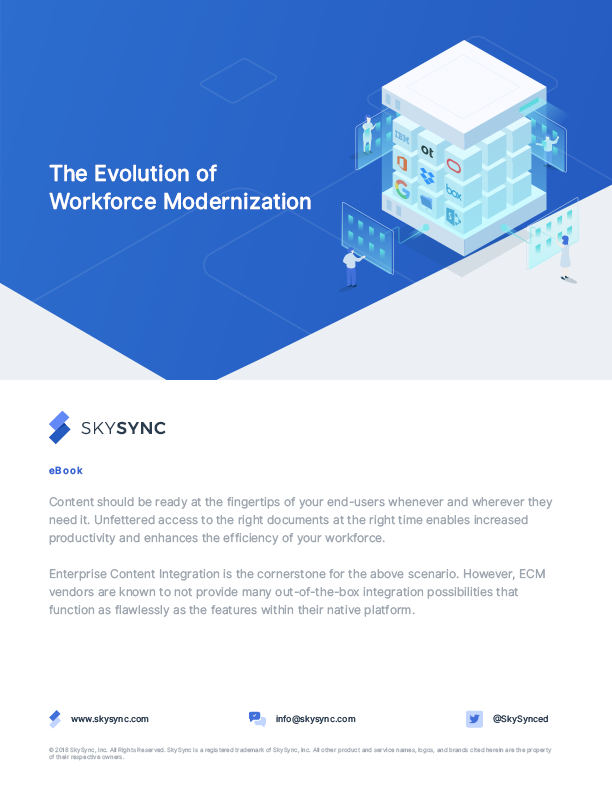 But one of the biggest challenges enterprises face is that built-in integration can lack feature parity and ease of use for end-users. The optimal experience is the native experience, and to achieve this, a full synchronization between the different systems is often required.
Well, what if you could:
Enable users to have seamless access to files from all enterprise storage systems
Incorporate cloud storage anywhere & any device capabilities with existing legacy systems
Storage systems that are part of a new business acquisition can be integrated with existing systems – and information shared – in minutes
No IT impact whatsoever – all existing system integrations remain in place
Check out our new eBook on "The Evolution of Workforce Modernization" to learn more on this.

Brad Schechter
Discover what SkySync can do for your business
Book a call with our team to discuss how enterprise content integration can empower your business and workforce.