01.20.2016
The forecast is bright for content collaboration software. According to a recent study published by analyst firm IDC, the market is expected to grow to $6.2 billion by 2019.
The report finds that much of this growth will be driven by the need for IT to connect unstructured, enterprise file sync and share services with structured ECM platforms.
"We see a broad continuum of customer needs when it comes to effective collaboration around content. The need to exchange information with collaborators inside and outside the organization – and activate it in the context of critical business processes – is driving the convergence of several markets," said Vanessa Thompson, IDC Research Vice President, Collaboration and Communities; and Melissa Webster, IDC Program Vice President, Content and Digital Media Technologies.
But integrating disparate storage systems has historically posed a myriad of challenges; individual files contain unique properties, versions, metadata and permissions, all of which are handled differently across content management platforms.
As IT managers seek to establish hybrid content management environments, an intelligent middleware layer capable of automating the bi-directional synchronization of files, folder hierarchies and individual file artifacts across ECM and EFSS platforms will be a necessity.
Many organizations have tackled this challenge head-on, enabling employees to collaborate freely using EFSS services, while keeping information secured within an on-premises system.
SkySync customer Skullcandy, the popular headphone manufacturer based in Park City, Utah, has done exactly this with Dropbox for Business and Microsoft SharePoint. Skullcandy gives its employees the freedom to choose which storage platform they like best and where they can be most successful. Using SkySync to keep both storage systems fully synchronized, Skullcandy IT is comfortable knowing that its mission-critical content in the cloud is also stored locally, on-site within SharePoint.
"We needed to find a way to keep those platforms synchronized so users could choose the platform that works best for them," said Zach Belles, Skullcandy Help Desk Manager. "SkySync has really enhanced our users' experience because now what they're seeing in Dropbox is exactly what they're seeing in SharePoint."
If cloud-based content collaboration continues to grow as IDC has predicted in its latest market forecast, so too will the need for third-party tools capable of seamlessly bridging ECM platforms with EFSS services.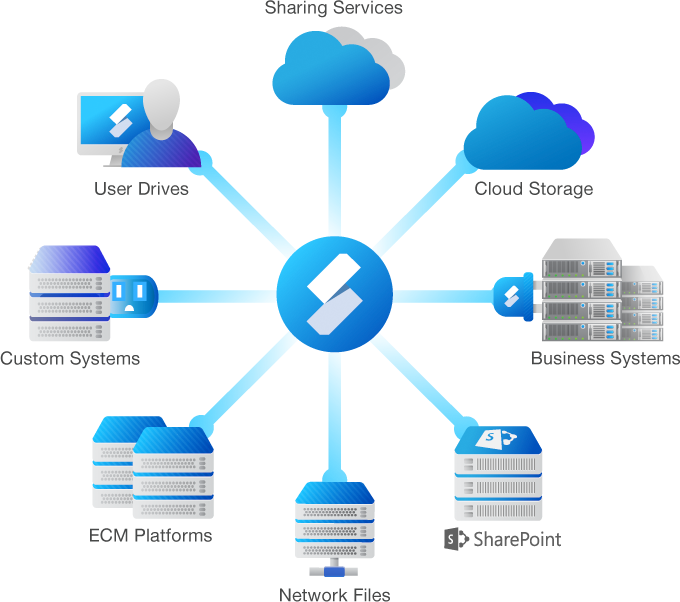 Krystal Elliott
Discover what SkySync can do for your business
Book a call with our team to discuss how enterprise content integration can empower your business and workforce.