10.02.2018
For many people within the Microsoft ecosystem, Microsoft Ignite 2018 is the highlight of the year. With an attendee count exceeding the 20,000, it is one of the main events in the Software, Information Technologies, and Databases & Information Systems areas. For five days, Orlando swarms with Microsoft employees, partners and customers. Hundreds of sessions are presented by Microsoft, MVPs, Regional Directors and experts within their field. The technical depth of the sessions ranges from a community-driven roundtable conversation to a deep dive in the bits and bytes of the different Microsoft products and services.
The Ignite conference is also an opportunity for Microsoft to announce new features and functionality for all of their products and services.
Take for example some huge announcements within the Content Services and Collaboration space. This past year, Microsoft's focus has been on teamwork and collaboration, so it shouldn't come as a surprise that many of its new features are related to Microsoft Teams. Read all the announcements here.
Ignite, however, is more than a technology conference. It is a convergence of people who love technology, chatting and networking via podcasts and videocasts; through conversations over breakfast, lunch, and dinner; on a long walk across the convention center to the keynote address, at a booth in the expo hall, or at an afterparty.
Take over 20,000 people with a single thing on their mind – learning as much as they can about Microsoft services and technology – and you easily move from amazing conversation to interesting whiteboard sessions. From all over the world, attendees come with suitcases full of questions, hopefully, to be answered and converted into ideas for the next 12 months to come. This is where we love to be, in the middle of the conversations, architecting new solutions, etc. This is where the magic happens.
We had an equally amazing time in the SkySync booth, fully prepared to meet our existing partners and customers and people who never heard of us. With 20,000 attendees and hundreds of vendors fighting for their attention, how do you stand out? For starters, you get a hologram.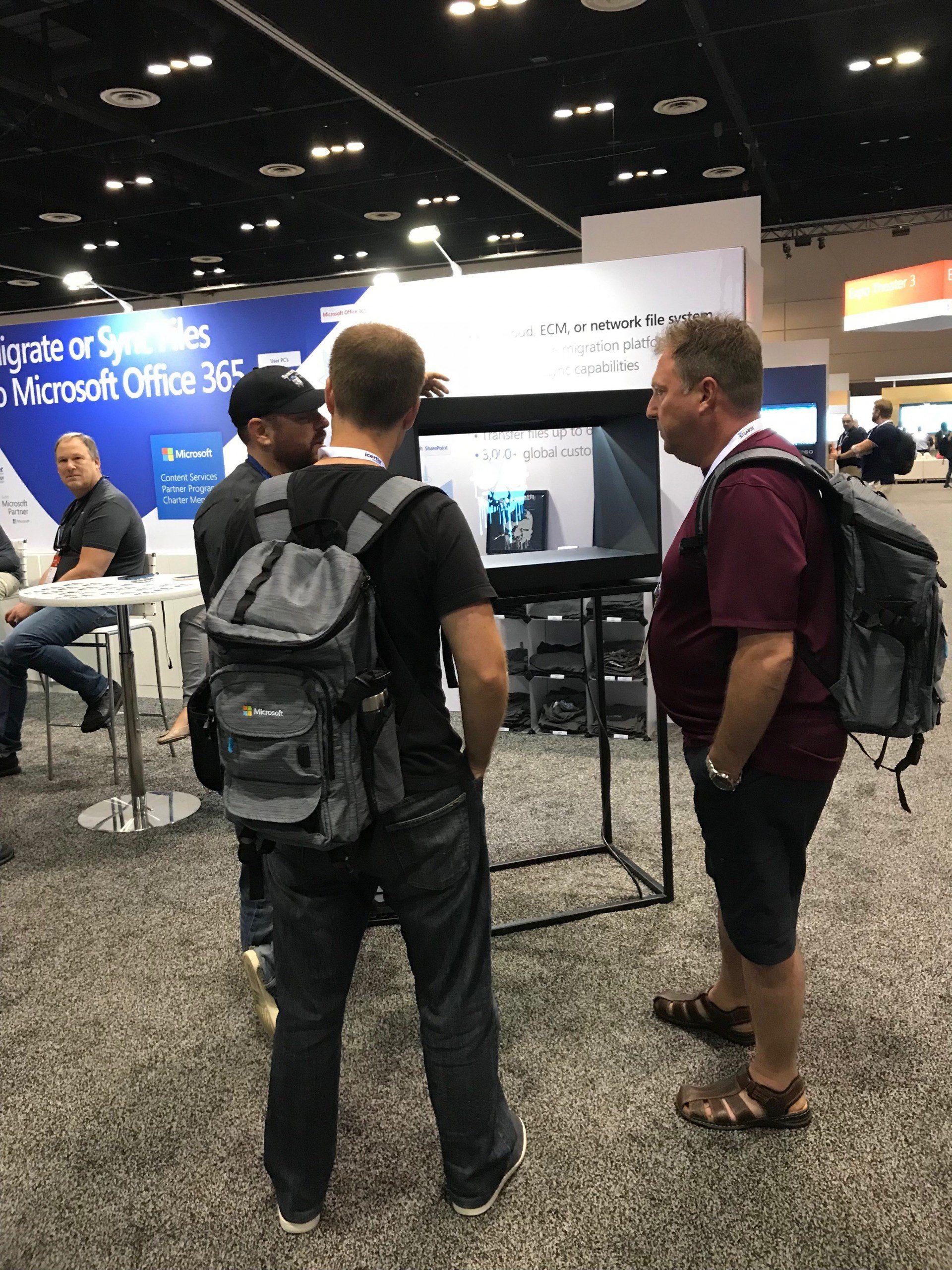 The booth was a great space for us to get feedback from our existing customers, and showcase our product and strengths to potential customers. Thousands of attendees visited the SkySync booth to engage with our team and ask us what "Content without boundaries" is all about. That is key to a successful booth at a conference like Microsoft Ignite: identifying the technical people, actively examining their challenges, and whiteboarding how together we can make their project a success.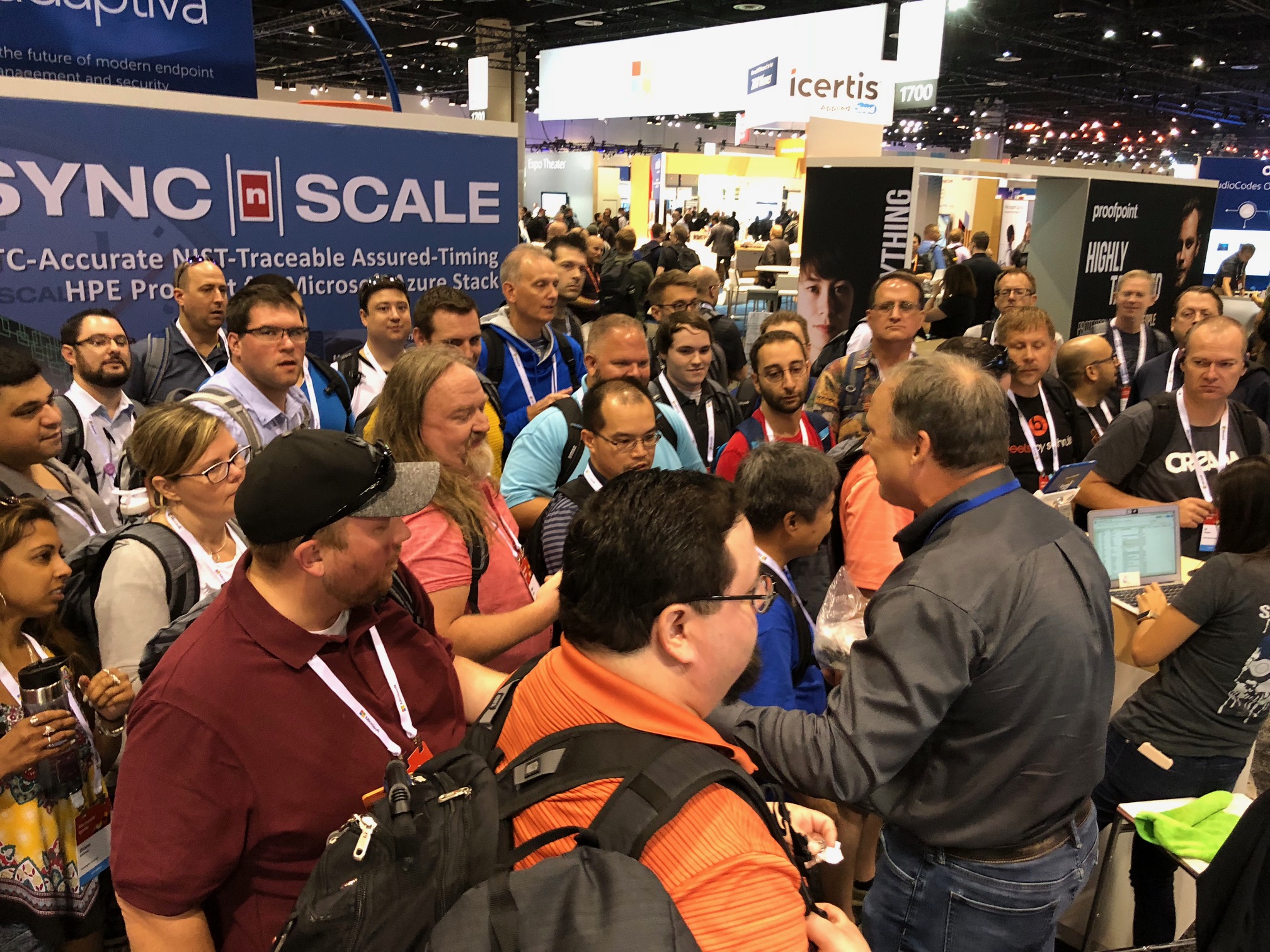 Although we have attended Ignite many times, this year SkySync also set out to raise the bar for social events with the first annual Syncopath Party. Nearly 1,000 people came out to the Icebar to party with us and our friends at KnowledgeLake, who co-sponsored this great event. It's safe to say that we will definitely be back again next year, with an even bigger, better Syncopath Party.
Speaking of next year, Microsoft has announced that Ignite will return to Orlando for the third year in a row, from November 4th – 8th, 2019. And you can already pre-register for the event here.
To summarize, Microsoft Ignite 2018 was perhaps our most successful conference to date. The connections that we made this year will carry on for many years to come and we can't wait to do it again in 2019.
Thank you to Microsoft, to all of our partners, to our current and future clients and all of our new friends – we'll see you next year.
Discover what SkySync can do for your business
Book a call with our team to discuss how enterprise content integration can empower your business and workforce.