03.13.2017
Planning Your Enterprise File Migration – White Paper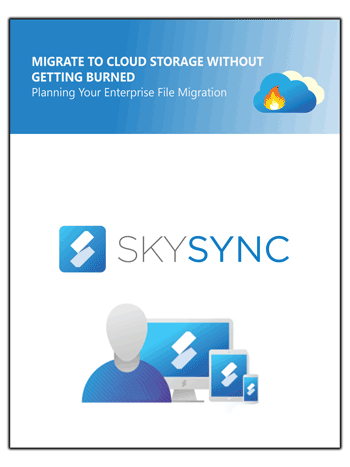 Due to technological advancements made in workplace collaboration, many businesses are investing in new, cloud-based enterprise file sync and share (EFSS) services to store their data. Before realizing a return on those investments, however, it's important that existing business content be properly imported into those new cloud systems. Most organizations contain a number of on-premises or legacy enterprise content management (ECM) platforms with vastly different file management systems which often complicates their intended storage migration. Once that process starts, IT departments suddenly become painfully aware of the technical challenges involved with transferring large volumes of content and users across such a diverse array of platforms.
However, along with advancements in file storage and collaboration platforms have come advancements in systems integration software. Careful planning paired with the right middleware means that organizations can complete a successful storage platform migration quickly and realize a return on their new IT investments – without getting burned along the way.
EFSS Services
The explosion of EFSS services has prompted a mass exodus from on-premises storage systems. As cloud vendors have bolstered their enterprise offerings, CIOs and IT administrators are finding the cost-savings and flexibility of these EFSS services more appealing than further investments into their on-premises architecture.
Early adopters of EFSS services have reported significant cost savings as CAPEX and OPEX costs are reduced drastically when information no longer needs to be stored on-site (Schneider Electric, for example, reports an annual savings of $1 million since migrating to cloud-based storage). Cloud vendors assume all of the responsibility and cost of maintaining servers, and "pay-as-you-go" models enable businesses to scale more effectively by simply adjusting their licenses (as opposed to investing in and deploying additional hardware).
Further, end-users are often appreciative of the flexibility that EFSS services provide when it comes to storing and sharing their documents. The cloud's "anywhere-any-device" capability enables users to securely access their content from anywhere in the world, without worrying about connectivity to their hosted solution. Collaboration has also become more efficient, as users no longer need to email documents back and forth and IT admins can maintain control over the security of business-critical content.
According to Gartner, by 2019, 75 percent of enterprises will have deployed multiple EFSS capabilities and over 50 percent of them will struggle with data migration. Hence, proper planning is imperative to a successful cloud storage migration.
Questions to Ask When Planning Your Migration  –
Historically, there have been many risks and high costs associated with the difficult task of storage platform migration. That's why, despite the explosion of proven EFSS services on the market, there are still many organizations who have yet to make their big move to the cloud. With powerful migration tools readily available, IT departments no longer need an army of integrators to get the job done.
Download this paper discussing SkySync's Enterprise Content Integration, and learn how organizations can now easily complete their migration in-house without getting burned

Krystal Elliott
Related Posts
Discover what SkySync can do for your business
Book a call with our team to discuss how enterprise content integration can empower your business and workforce.