06.26.2017
Moving to the Cloud: An Enterprise Cloud Migration Strategy
In the 1960s, the idea of cloud computing — accessing and storing data over the internet, instead of on-premise — was just a concept. But as time went on and technology evolved, cloud computing came into existence and was slowly adopted by organizations, despite some concerns about security and monitoring external resources.
Today, cloud solutions are more secure and user-friendly than they were even five years ago, and recognition is growing; 50% of companies recognize the need for cloud solutions. Unfortunately, making the transition to the cloud can be difficult, especially for businesses without a file-sharing plan. Enterprises with a large number of files can find themselves losing valuable time (and by extension, money) when file transfers move slowly or lose valuable metadata.
Here's what you need to know about your off-premises options, and how to prepare to move to the cloud:
Benefits of Moving to the Cloud
Although some enterprises may find moving to the cloud tricky, there are many cloud storage benefits. Unlike on-premises systems, the cloud does not require an investment for hardware or maintenance; the provider typically handles most of the maintenance and software updates.
Additionally, one can build and scale cloud storage as quickly as needed. Thus allowing enterprises to adapt more rapidly than they could with on-premises platforms, which would necessitate additional hardware and maintenance. Cloud storage also has the benefit of making information readily available for employee collaboration through services like enterprise file sync and share (EFSS).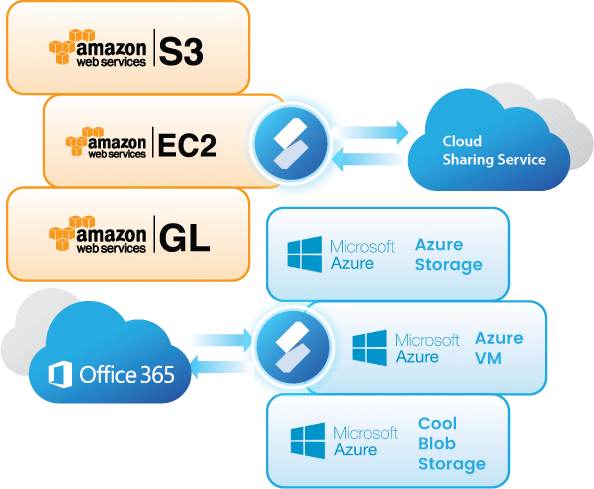 Hybrid Cloud Migration: Finding the Middle Ground
Although there are advantages to cloud storage, some businesses are unwilling or unable to completely abandon their on-premises storage solution. Much of this has to do with the amount of time and effort it would take to dismantle existing systems. And especially if there are integrations with line-of-business systems. Some enterprises may also have difficulty adhering to security compliance mandates without on-premises storage, making it critical to their operation.
To bridge this gap, enterprises are increasingly considering a hybrid cloud-on-prem environment that marries the two solutions. Companies can use their existing on-premises platform to keep integrated business systems intact. And therefore easily meeting security and compliance requirements. At the same time, the hybrid cloud can be used to let employees easily access and share files, which makes it suitable for the 58% of companies who require integration with enterprise content management (ECM). ECM in the cloud can give enterprises a holistic approach to content management, especially as providers add new integrations to adapt to their users needs.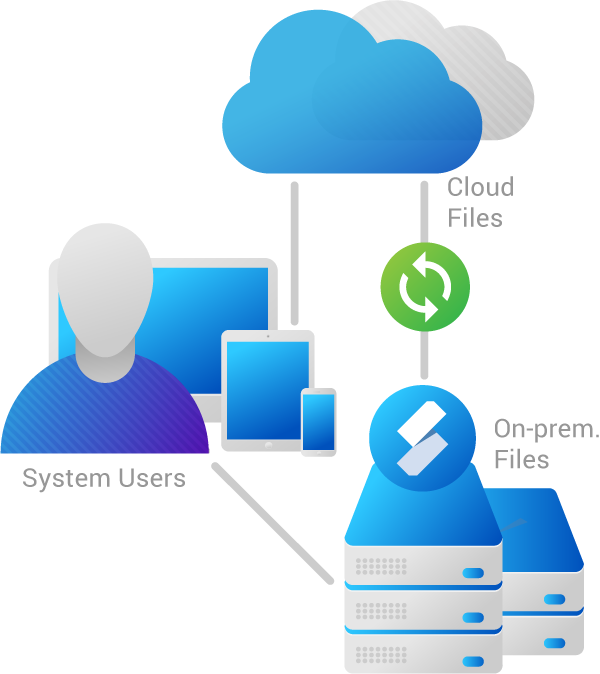 Moving Your Infrastructure to the Cloud or Creating a Hybrid Cloud
Four Common Problems during File Migration
The best way to avoid potential problems is to prepare for them. Organizations that want to create a hybrid cloud or integrate their ECMs should be aware of these four common problems that occur during file migration:
Files that are stripped of permissions and metadata during migrations, complicating file usage for end users
Migrations that can take weeks, especially for enterprise-level data loads
Damaging integrations to existing systems
Lack of job monitoring for IT, making progress unclear and oversight difficult
Although there are different file migration solutions available, middleware is your best bet when working with a hybrid cloud or other integrations. Middleware technology bridges dissimilar platforms and can create your hybrid environment for a smoother transition to the cloud. You can then sync and share data across platforms for easy backup and collaboration. Middleware providers like SkySync make it easy for IT departments to implement the software, tightly integrate your platforms, and begin your file migrations.
For more information on how to migrate to the cloud without getting burned, download our white paper.

Krystal Elliott
Related Posts
Discover what SkySync can do for your business
Book a call with our team to discuss how enterprise content integration can empower your business and workforce.