03.24.2017
SharePoint Fest heads to Washington, DC at the Walter E. Washington Convention Center April 17-20th, 2017 and SkySync will participate as an exhibitor of this premier SharePoint conference
WASHINGTON, DC (PRWEB) MARCH 23, 2017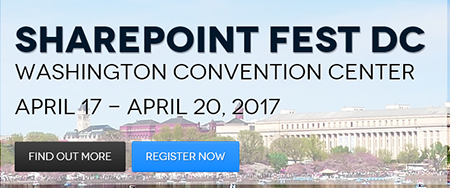 SharePoint Fest DC, a premier SharePoint conference in which conference delegates will hear from a keynote speaker and attend breakout sessions, will have SkySync as an exhibitor. Over 100 sessions will be offered across multiple tracks, as well as two optional days of workshops preceding the conference. There will also be a networking reception held at the end of the first day of the conference.
SharePoint Fest is in its seventh year. It offers a two-day conference (with an optional two days of workshops) that brings together SharePoint enthusiasts and practitioners, with many of the leading SharePoint experts and solution providers in the country.
Attend SharePoint Fest DC where attendees will be able to attend workshops and seminars – taught by Microsoft Certified Trainers, Microsoft engineers, and Microsoft MCM's and MVPs – covering Enterprise Content Management, Implementation/Administration, Business Value, Search, Business Intelligence, Office 365 and SharePoint Development. Attendees will be able to choose one complete learning track or mix and match based on what content best meets their current needs.
At SharePoint Fest DC, there will be sessions created for SharePoint administrators, software developers, business analysts, information architects, and knowledge workers, which will ensure that attendees walk away with as much knowledge as they desire to truly leverage SharePoint in their current environment.
Web Site: http://www.sharepointfest.com/DC
About SkySync
SkySync is an Enterprise Content Integration platform that dynamically bridges disparate storage systems together; empowering organizations to easily optimize file management strategies while strengthening file governance and increasing user productivity. SkySync streamlines cloud adoption by enabling organizations to integrate content from all their existing storage platforms efficiently.
Web Site: http://www.skysync.com

Krystal Elliott
Discover what SkySync can do for your business
Book a call with our team to discuss how enterprise content integration can empower your business and workforce.