06.26.2017
Do You Have a Software Integration Plan?
How To Streamline Success:
In an increasingly digital world, enterprises need to carefully manage their online content in order to keep business running smoothly. Important files should be easily accessible for the employees who need them, with collaboration capabilities for joint projects and quality checks.
At the same time, online content — especially intellectual property  — needs to be securely stored with IT oversight. Enterprises have adopted different methods to meet these needs, including enterprise file sync and share (EFSS) and enterprise content management (ECM), but bridging the gap between these and other systems doesn't always happen; only 50% of enterprises have integration between file share and line of business. This can cause issues when departments or personnel store important documents in a system that is not accessible by other employees who may need it.
To fix this, enterprises need to learn how to integrate dissimilar systems for a seamless, effective workflow. Here's why software integration is your best option:
Why Is Software Hardware Integration Important?
Integrating systems has many advantages for enterprises looking to streamline workflow and processes. Employees who collaborate through technology can often work more productively, so integration across platforms and devices is crucial, especially as workers become more mobile. Integration also reduces friction between line of business and file sharing platforms, allowing for easier communication and collaboration between departments.
Software Integration to Store and Manage Files: Integrating EFSS and ECM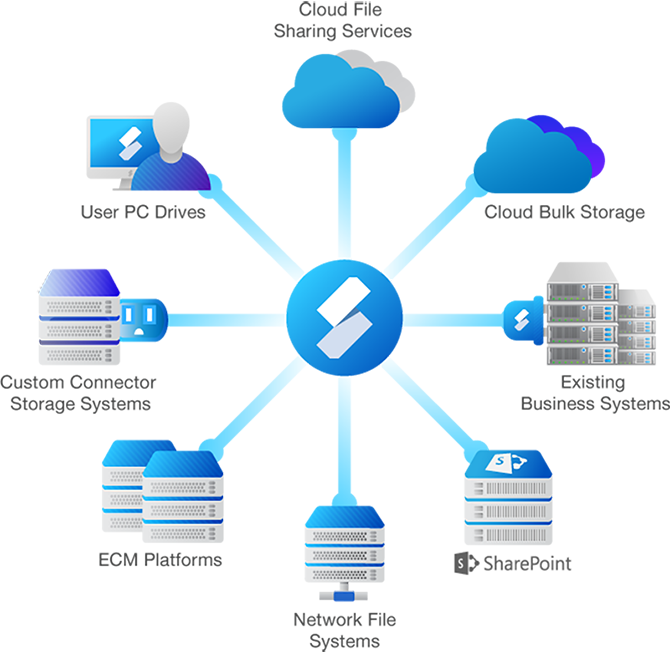 Integration also allows enterprises to be more flexible in regards to how they store and manage files, especially with ECM and EFSS systems. User adoption of EFSS is faster and higher than ECM, but 80% of enterprises will use SaaS ECM solutions by 2018.
This is likely because enterprises are adopting both systems, or adding the less expensive EFSS to their existing setup; both solutions have advantages and drawbacks based on capability and implementation.
For example, ECMs are complete solutions that move documents through their lifecycles, but they are complex and expensive systems that need to be maintained by IT or other admins.
ECMs also allow users to collaborate and share files, but the cost of setting up and maintaining them have shifted some in favor of EFSS, which can be implemented faster. And while EFSS requires less maintenance, IT needs to implement it in order to put security guidelines in place. Some enterprises have therefore decided they need the best of both worlds and choose both.
Unfortunately, bridging the gap between these two important systems can create issues and incompatibilities, especially when it comes to file migration from one system to the other. Enterprises can have terabytes or petabytes of content, which can slow down the migration process considerably. This can cost the enterprise a significant amount of time and money, especially when files are stripped of their metadata during the move. Managing the migration can also be difficult from an IT standpoint if job monitoring and reporting isn't available.
How Can You Bridge The Gap?
Companies looking to safely integrate EFSS and ECM can utilize middleware, which is a software that bridges dissimilar platforms. In some ways, middleware acts as a glue that holds the platforms together, but still allows the movement of files between them.
Enterprises have different considerations than smaller organizations when it comes to moving content, so there are some factors you'll want to keep in mind when evaluating middleware software:
Middleware Speed
Middleware for enterprises should be able to handle large file migrations without sacrificing speed. Ask middleware providers the typical workloads their software handles and how quickly jobs are completed. If they haven't worked with clients on your level, it's best to move on.
Ease of Use and IT Oversight
Middleware software should be easy to implement and monitor. When shopping, look at the management options and reporting available to admins, as well as setup for platform integration. If you can't use it, it's worthless, so stick to user-friendly interfaces and transparent job monitoring.
File Preservation
File metadata and permissions are important to end users looking to access content. Check that any software integration company or middleware you're considering preserves file data.
Integration is necessary, but it doesn't have to be difficult. Download our whitepaper for more information on bridging EFSS and ECM.

Krystal Elliott
Related Posts
Discover what SkySync can do for your business
Book a call with our team to discuss how enterprise content integration can empower your business and workforce.