---
SkySync's next generation file transfer technology was designed to meet the needs of the largest enterprise. Migrate billions of files and petabytes of content with speed, accuracy and fidelity. SkySync's versatile deployment model enables installation either on-premises, in a public or private cloud or within remote sites.
Maintain business as usual
SkySync's unique "continuous copy" mode ensures that target system files are up-to-date in near real-time, precisely mirroring the source system. Completely transparent to users, they can move to their new platform at the organization's own pace – with absolutely zero impact to existing business operations or system integrations.
Sync all storage systems
Synchronize on-premises storage systems with cloud-based storage services to unlock seamless collaboration while preserving your existing system performance and system-of-record. Seamless to users, new files or file changes from either system are automatically reflected in the other to maximize productivity.
Precisely predict migration outcomes
SkySync's built-in, pre-migration simulation mode provides insight into your existing files structures as well as predicts migration outcomes prior to execution.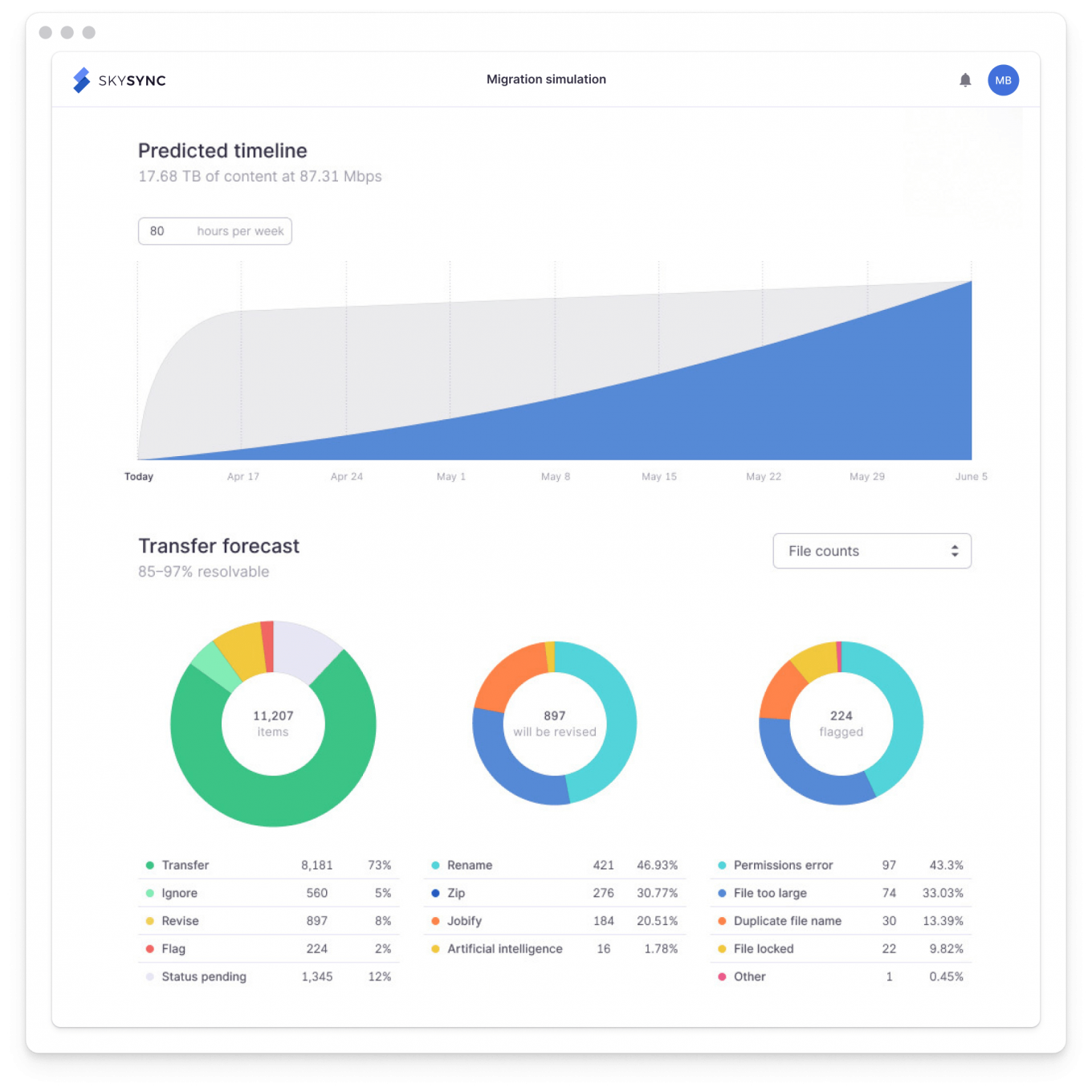 Don't compromise on migration
SkySync preserves all aspects of file fidelity—metadata, permissions, links, sharing profiles, unique source system attributes and more. Validation reporting provides a detailed reconciliation report of your content after the enterprise file migration is complete.
Advanced functionality and automation
150TB
Interrogated per day
File discovery time that once took weeks or months now takes days within optimized environments.
60TB+
Transfer throughput per day
Within optimized environments, rapidly migrate files to meet renewal deadlines while saving costs and overhead.
99.99%
Initial transfer success rates
SkySync delivers transfer results that exceed industry averages of 90-95%.
Our approach to migration
Designed for the largest, most complex migrations
The SkySync platform brings advanced content integration and migration capabilities to your fingertips.
Learn more