04.14.2017
EFSS: Everything you need to know about enterprise file sync and share
Enterprises have different needs when it comes to content management, especially when compared to smaller businesses. Larger companies need to give their employees the ability to collaborate across platforms and devices so they can work together in real time, wherever they are. But this boon to productivity can also come at a price. Employees unsatisfied with their current collaboration capabilities may adopt their choice of file-sharing software, creating a major headache for IT — as well as a potential security risk. EFSS was developed in response to this problem.
What is EFSS?
According to TechTarget, enterprise file sync-and-share (EFSS) "is a service that allows users to save files in cloud or on-premises storage and then access them on other desktop and mobile computing devices." EFSS products are designed to handle the needs of enterprises, with features that specifically address large companies' concerns regarding Shadow IT and collaboration.
While in the past a platform like Google Drive may have sufficed, enterprises realized that the lack of security features in consumer-grade file sharing services, as well as the potential for misuse of private accounts, made them problematic. Large companies needed a more secure and controlled approach to file sharing that eliminated Shadow IT, and software companies rose to the occasion. Dropbox was one of the first companies to meet this need with enterprise file sync and share software (EFSS), with others quickly following suit. Google also incorporated more enterprise-grade features as it evolved its Drive and Apps platforms into G Suite. EFSS is growing in popularity, but some companies are unsure how to utilize it best. Here's what you need to know about EFSS to help take your enterprise's content collaboration to the next level.
Common features of enterprise file sync and share
Unsurprisingly, one of the main features of EFSS is the ability for more than one user to create and edit files simultaneously, with the ability to scale as the company grows. These main features allow employees to collaborate in real time, and add storage as needed — but this is hardly new. EFSS's true power (and desirability to enterprises) lies in its security features.
With enterprise file sync and share, IT no longer has to worry about unauthorized sharing of company files. Administrators can set security parameters that limit who can share what, and create user account permissions to limit accessibility to more sensitive data. Content is also typically encrypted when shared, and scanned with antivirus software to minimize the risk of a data leak. These features not only allow IT more oversight but also add a layer of security to all internal file sharing. For those who need to share externally, some EFSS services have the capability to create sharing links for third-party access, allowing secure collaboration with partners or customers.
Why EFSS is doing so well: secure file sharing and more
Considering it was built to meet the needs of enterprises, it's unsurprising that EFSS market it so strong. Its security features put the control of content back in the hands of the company, and allow IT to watch and manage what people are accessing and sharing both internally and externally. In addition to keeping content secure, these features can also help companies meet compliance standards — but there are indirect benefits of EFSS as well. In a workplace, collaboration is key; according to a study by Fierce, Inc., 86% of respondents blame a lack of collaboration or ineffective communication for workplace failures. With EFSS, employees can work together on files in real time and across devices, improving their collaborative capabilities, and by extension, their productivity.
Future of the EFSS market
With more enterprises catching on to the benefits of EFSS, adoption rates are predicted to continue growing. According to Markets and Markets, EFFS market size "is expected to grow from USD 1.11 Billion in 2015 to USD 3.51 Billion by 2020." We can expect this surge in adoption to accompany other changes in the market as providers continue to adapt their technology to enterprise needs.
For example, we can expect to see continued growth in hybrid solutions; according to 451 research, hybrid is the fastest-growing deployment option. This is likely due to hybrid solution's convenience — having both on-premise and cloud options allows enterprises to keep more sensitive data on-site, while still collaborating and scaling up in the cloud.
It is also likely that the EFSS market will continue to favor big brands. 451 research reported in its survey that of respondents using paid services, 46% were using Dropbox and 37% were using Microsoft OneDrive, with the gap between these companies and their smaller competitors expected to widen with time. In the EFSS market buyers seem to favor familiar brands and general usability, indicating that these larger companies will remain untouchable by smaller startups.

How the EFSS market will impact enterprises
Enterprises will continue to reap the benefits of the EFSS market, which is constantly tweaking its formula to better serve their needs. Here are some positive ways EFSS will continue to help enterprises:
IT mandated EFSS will mitigate loss through tighter security features: According to TechTarget, companies who crackdown on unauthorized Shadow EFSS and implement their own systems can prevent data leaks, regulatory compliance violations, and employees walking off with valuable information.
Companies can collaborate more effectively: The majority of companies looking in the EFSS market already have some file sharing or collaboration system (only 17.5% have no system in place), indicating a need for great collaboration capabilities. Companies who can give their employees more options for collaboration, like access across devices, will be able to create a more productive workforce.
Hybrid solutions give enterprises a storage environment that works for their unique needs: Companies who feel more secure or are required by law to store content on-site can do so, while still taking advantage of the collaborative capabilities of the cloud.
How to prepare for EFSS
Although there are many benefits of EFSS for enterprises now and in the future, it is not without its faults. According to Information Week, most organizations are not able to migrate all of their files to EFSS, and NAS vendors have been slow to use the technology. These challenges often cause files to end up in multiple repositories, which can lead to frustration for both the users (who have to search multiple places for their files) and IT (which now has to manage several different systems). Enterprises looking to bridge the gap between EFSS and other platforms, including ECM, will need to invest in a middleware solution.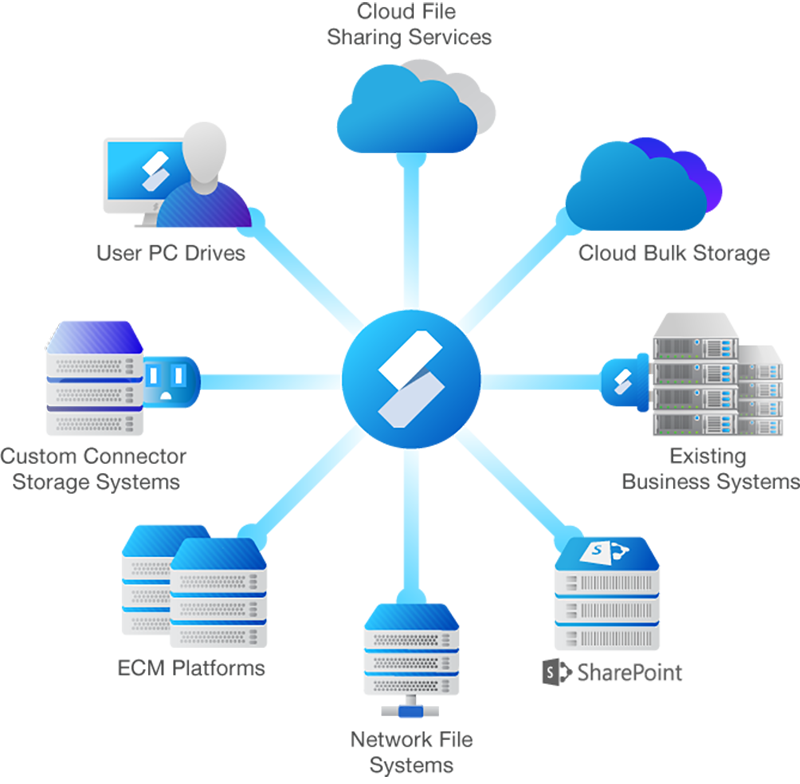 To prepare for EFSS and find the most effective technology, consider the following factors when choosing middleware:
Available connectors: Be sure to choose a middleware solution that connects with not only your existing platforms but any you may add in the future.
Speed and workload capability: Look into how many files the middleware can migrate, and how quickly it can do so. Not all middleware is built to handle large workloads, and a slow solution can cost you time and money — research case studies for an idea of what a specific product can manage.
Ease of use: Good middleware technologies should have intuitive interfaces. IT should be able to manage file migrations and monitor job progress at any time.
Middleware technologies: how SkySync is different
If you're using EFSS for its flexibility, you'll want a middleware solution that can keep up. It should make your job easier — not hold you back. According to Gartner's Cool Vendors in Content Management (2015), SkySync is one of the few vendors that allows you to easily manage the synchronization or migration of files across dissimilar content platforms, and can simply create hybrid environments with no coding. The technology allows you to migrate, backup, or bi-directionally synchronize a large number of files without losing critical metadata or permissions.
Finding the right solution for you
If you're an enterprise struggling with Shadow IT and a lack of productivity, an EFSS solution may be just what you need to jump-start collaboration and keep your content secure. Whether you're adopting the new platform today or months down the line, be sure to prepare for enterprise file sync and share with a middleware tool that can easily create the environment you want, hassle-free.

Krystal Elliott
Related Posts
Discover what SkySync can do for your business
Book a call with our team to discuss how enterprise content integration can empower your business and workforce.