---
While organizations are taking steps to modernize content management and ensure that data is easily discoverable, it's still an overwhelming task to classify and govern a growing landscape of unstructured data and repositories.
You may already know that risks are lurking in your organization's dark data—but identifying, quantifying, and mitigating these risks requires a deeper look.
---
SkySync leverages artificial intelligence (A.I.) to classify content by discovering sensitive, high-risk, obsolete, and "dark" data. SkySync can then apply metadata, document classification, or other identifying tags and labels to this unstructured data.
With significantly higher confidence rates and speed than legacy approaches, SkySync uses A.I. and advanced pattern matching to identify and classify the following data entities:
Document type (resume, W-2, invoice, etc.)

PII including names, ages, addresses, dates of birth, phone numbers, social security numbers, banking information, etc.

More than 5,000 standard government forms

Foreign language detection

Any custom data attributes unique to the needs of your business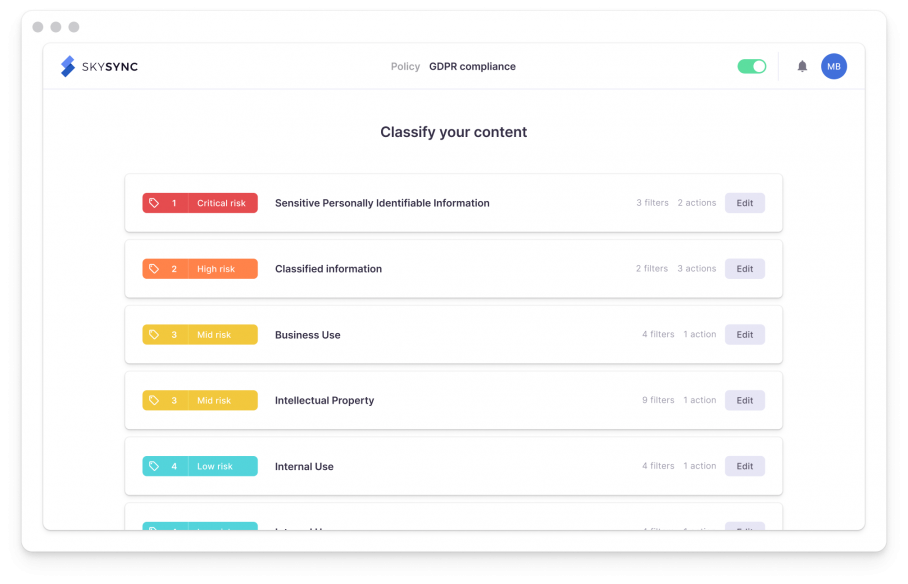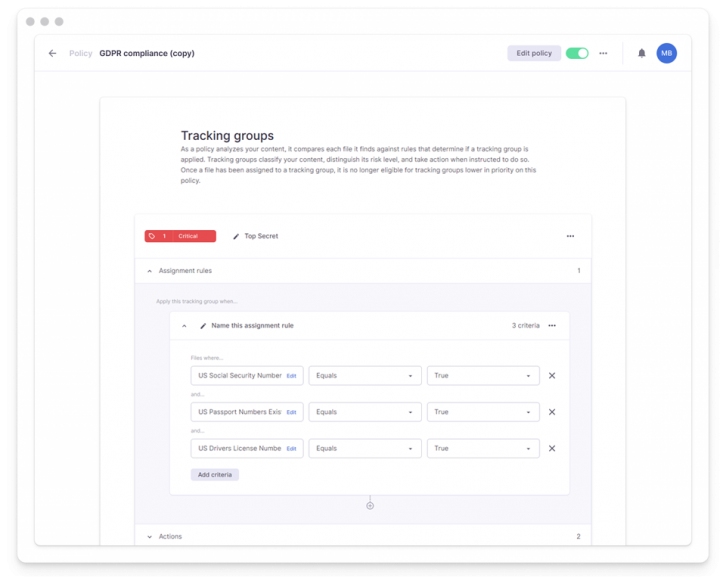 Classify with confidence.
Next generation machine learning and A.I. modules were architected from the ground-up to classify unstructured data at scale, with accuracy. 
Learn more on the Classification Engine
---
Our classification methodology enables an on-going assessment of vulnerabilities that may be hiding within your unstructured data.
Sensitivity Label Audit
The classification engine will scan and identify sensitivity labels applied to files within a given repository. Internal labels will be compared against sensitivity labels applied by users or other automated classification systems. A comprehensive sensitivity label audit report then provides visibility into labels that may be misapplied or missing, for automatic or manual correction.
Risk Assessment
The classification engine will assign a rules-driven tracking label to every document in a repository. Comprehensive reports reveal sensitive and, more importantly, vulnerable data hiding in any storage repository on a continual basis. A series of automated actions can be applied to risk and mitigate vulnerability—such as assigning permissions, moving content, or other measures.
"Enterprises are sitting on mountains of unstructured data, putting them under intense pressure to manage and make the data readily available… It's a significant problem that's not going away."